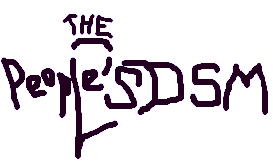 Welcome to the People's DSM Wiki
The People's DSM (also called Identities of Mentally Oppressed Kin or IMOK) is a project where psychiatric survivors reject outside labels and define ourselves however we see fit: a description, a story, a drawing... anything to express our identities without fear of ridicule or medical labeling.
Anyone can contribute, and entries can be anonymous!
This wiki is a public community project of MindFreedom Portland, endorsed by MindFreedom International.


Because human experience is vast, and rarely tame...
"To the extent that this world surrenders its richness and diversity, it surrenders its poetry. To the extent that it relinquishes its capacity to surprise, it relinquishes its magic. To the extent that it loses its ability to tolerate ridiculous and even dangerous exceptions, it loses its grace."
- Tom Robbins, "Even Cowgirls Get the Blues"
A room of our own
We have dealt with labels meant to describe our experiences as illnesses, but who are we?
In our own words and images (please, add your identity to the wiki-- click on Add a Page!):
The Business of Isness: parallel universes
Creatively Maladjusted Personality
Iatrogenic trauma and retraumatization
Nonadjustment to Label Focused Domestic/Familial Abuse Disorder
OMG!!!! My mood changed! Disorder
Over Diagnosing Over Prescribing and other psychiatrist disorders
Post Traumatic Capitalism Reaction
Psychiatric Survivor Nonviolent Grandiose Global Creatively Maladjusted Diagnosed Psychotic Revolutionary!
Why not a Characteristics of Sanity Manual (CSM)?
Latest activity
DSM-criticism disorder NOS
created by A FANDOM user

| | |
| --- | --- |
| New page: | DSM-Criticism disorder NOS, is somehow very real, but no one can quite point a finger at it. Even so, DSM-Criticism disorders tend to be very ...mind... |

Psychiatric no-guilt disorder
created by A FANDOM user

| | |
| --- | --- |
| New page: | Derp. Psychiatric no-guilt disorder is kind of weird, because the people who seem to have it are strange, and they have weird consciousness issues.... |
Ad blocker interference detected!
Wikia is a free-to-use site that makes money from advertising. We have a modified experience for viewers using ad blockers

Wikia is not accessible if you've made further modifications. Remove the custom ad blocker rule(s) and the page will load as expected.